Sean O'Leary
Consultant Knee Surgeon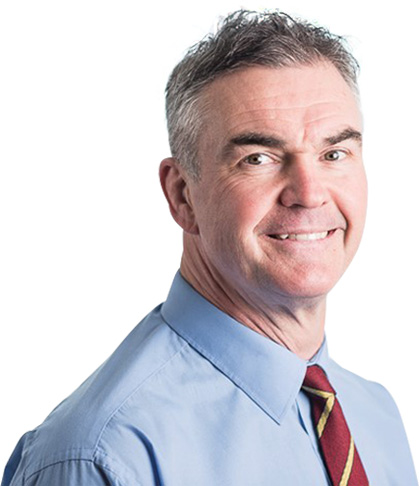 Mr Sean O'Leary is a Consultant Orthopaedic Surgeon at Circle Reading Hospital.
Sean's early medical training (1983-9) was at Cambridge University (Fitzwilliam College) and St Mary's Hospital, Paddington.
His specialist orthopaedic training began in 1995 on the NW Thames rotation (London) and culminated in 2000 with Fellowships in knee arthroplasty (replacement) and knee ligament reconstruction at Monash Medical Centre, Melbourne and The Prince of Wales Hospital, Sydney, Australia. He started as a consultant at the Royal Berkshire Hospital in January 2002.
He specialises in all aspects of knee surgery including arthroscopic (keyhole) surgery, ligament (ACL) reconstruction, realignment surgery (osteotomy) and partial/total joint replacement. With his extensive sporting background, he also has a strong interest in sports knee injuries and their management.
Most of his early years were spent training and playing various sports, which included athletics (National schools 400 m hurdles) and basketball (National League with Plymouth Raiders).
He went on to spend 13 years playing first class rugby with Wasps, Bath and Saracens, gaining representative honours for Middlesex, London division, the Barbarians, England 'B' team (1988-91) and the 1991 England World Cup squad.
More recently, he has turned his attention to indoor rowing (British Indoor Championship), cycling and the occasional real ale.
Current NHS or Research Position
Consultant Orthopaedic Surgeon at the Royal Berkshire NHS Foundation Trust, Reading (Clinical Director 2011/12)
Year of first medical qualification
1989
Special clinical interests
Sean has a particular interest in the "younger" arthritic knee and the evolving "joint preserving" surgical techniques such as osteotomy (leg realignment) and partial joint replacements.
He was invited to be the lead surgeon in a redesign of the instrumentation for the LINK St Georg unicompartmental knee replacement (which has been his choice of implant since 2003) and has recently rewritten the surgical technique manual.
He hosts regular international instructional courses in Hamburg for consultants, and Circle Reading Hospital is a specialist centre for this particular procedure.
He also has a significant interest in the recovery and outcomes of anterior cruciate ligament (ACL) reconstruction and helped to establish the (UK) National Ligament Registry in 2013. This is a national initiative to monitor and report on the outcomes of all ACL reconstructions in the UK. He was Chairman from 2013-16 and remains on the Steering group.
Research interests
The role of computer assisted surgery in osteotomy (realignment surgery)
The development of improved rehabilitation techniques following ACL reconstruction which could reduce re-injury rates
The pre-operative assessment of patients with early degenerative disease and the role of gait analysis
Current memberships of professional, national and regional bodies
British Orthopaedic Association
British Association for Surgery of the Knee (Executive Board)
National Ligament Registry
European Society of Sports Traumatology, Knee Surgery & Arthroscopy
Circle Reading Hospital
100 Drake Way
Reading, RG2 ONE
Phone: